Cranes, tlb, excavator boiler maker, welding training courses +27603666052 - A P Khumalo
Thursday, 12 January 2017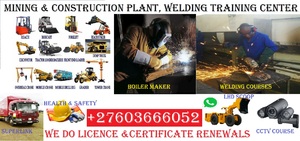 Item details
City:
A P Khumalo, Gauteng
Contacts

Abdu

+27603666052
Item description
Geozack Operators Training & projects (pty) ltd Fully Registered Training institute in south Africa REG NO. 2009/206080/23
We offer training in the fields of Health and Safety, First Aid, Fire Fighting, Lifting Equipment, Driver Training, Dangerous Goods, Earth Moving Equipment and Management in the workplace. We have more the 18 Years' experience in the field of training and our facilitators are passionate about their work, they are dedicated to provide training that is unique, but focused on the individual's needs.
OTHERS COURSES OFFERED INCLUDE: WELDING/CONSTRUCTION/PLUMBING/CARPENTRY/ELECTRICAL ENGINEERING/MECHANICAL ENGINEERING AND MINING COURSES WITH JOBS AVAILABLE AFTER TRAINING. CALL +27603666052
1.Counter balance (forklift) 5days training
2.Tractor loader backhoe 10 days training
3.Front end loader 10 days training
4.Excavator 10 days training
5.Mobile crane 10 days training
6.Tower crane 10 days training
7.Overhead crane 10 days training
8.Dump Truck 10 days training
9.Reach truck 5 days training
10.Grader 10 days training
11.Bulldozer 10 days training
12.Roller 10 days training
13.Scoop-tram (LHD
14.Bob cat 5 days training
15.Container handler 10 days training
"Welding Courses "
16. Boiler making 4 weeks training
17. Co2 4 weeks training
18. Ark welding 4 weeks training
19. Stick welding 4 weeks training
20. Agony 4 weeks training
21. Gas welding 4 weeks training
22. Aluminium welding 4 weeks training
NB: Every Monday, new students start off their training and that is only done after the student has made the bookings on the days before Monday.